All-On-4 Dental Implants – Guilderland, NY
Recover Your Smile in a Single Appointment
If you're missing an entire row of teeth, most of your teeth are failing, or you're stuck with an uncomfortable denture, All-on-4 can help you turn everything around in a single appointment. Combining the latest dental implant technology with advanced techniques, the procedure allows a patient to get a fully-supported implant denture in just one visit. Are you ready to finally recover your smile? If so, contact us today to learn more about this treatment.
Why Choose Oshins of Smiles for All-On-4 Implants?
Partnered with Local Specialists for Implant Placement
Fully-Customized Dentures for Every Patient
Kois Center Trained Dentist
What Are All-on-4 Dental Implants?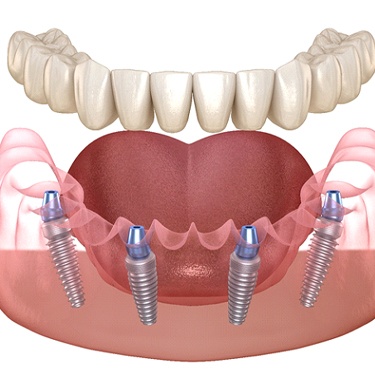 The concept behind All-on-4 is relatively simple: four dental implants are placed along the jawbone, and these are immediately attached to a new full denture to restore the entire row of teeth. This works because the implants are located strategically where the jawbone is naturally its thickest (towards the very front and back). Once a patient has completely healed, their first denture will be replaced with a more personalized permanent one designed by Dr. Oshins.