All-On-4 Dental Implants – Guilderland, NY
Recover Your Whole Smile Faster Than Ever
If you're missing an entire row of teeth, most of your teeth are failing, or you're stuck with an uncomfortable denture, All-on-4 can help you turn everything around. Combining the latest dental implant technology with advanced techniques, the procedure allows a patient to get a fully-supported implant denture in just one visit. Are you ready to finally recover your smile? If so, contact us today to learn more about this treatment.
Why Choose Oshins of Smiles for All-on-4 Implants?
Partnered with Local Specialists for Implant Placement
Fully-Customized Dentures for Every Patient
Kois Center-Trained Dentist
How Do All-On-4 Implants Work?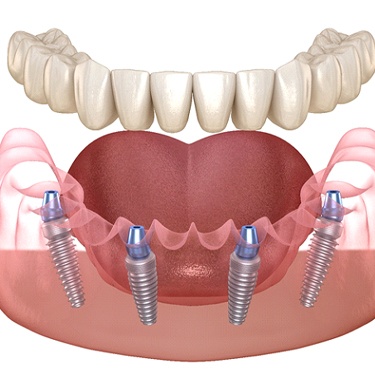 The concept behind All-on-4 is relatively simple: four dental implants are placed along the jawbone, and these are immediately attached to a new full denture to restore the entire row of teeth. This works because the implants are located strategically where the jawbone is naturally its thickest (towards the very front and back). Once a patient has completely healed, their first denture will be replaced with a more personalized permanent one designed by Dr. Oshins.
Am I a Candidate For All-On-4 Implants?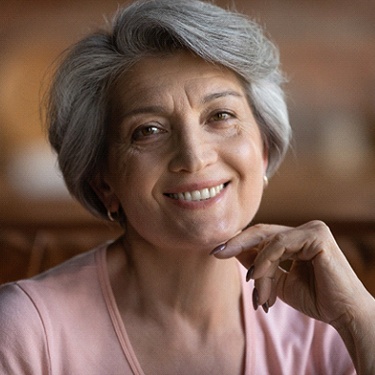 If you are missing all of the teeth in either your upper, lower, or both arches and you have healthy bone tissue, you're likely eligible to receive All-on-4 dental implant treatment. If you have one to two remaining teeth, there's a possibility that they will need to be removed to make room for your future tooth replacement. We'll make sure to discuss this with you ahead of time if needed.
Furthermore, if you have any existing gum disease, tooth decay, oral infections, or other issues that need to be resolved, we'll perform restorative treatments to get your oral health back to normal first.
Benefits of All-On-4 Implants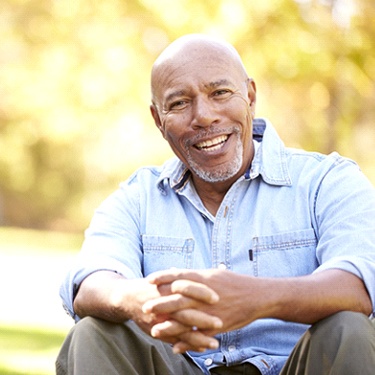 All-on-4 has many unique benefits that make them stand out, not just among other tooth replacements but even those that make use of dental implants. For example:
Your new prosthetic is designed to be permanently fixed to your jaw. As a result, performing basic oral care like brushing and flossing feels natural and makes the process much easier compared to removing your prosthetic and cleaning it outside of your mouth.
The implants will consistently stimulate your bone tissue after they have fused inside of your jaw. This ensures your jaw shape remains intact and does not shrink over time.
Improved bone stimulation also makes your biting force stronger, allowing you to eat your favorite foods without worry of your prosthetic falling out.
Thanks to the materials we use to create your replacement teeth as well as the fusion process that occurs with your implants, you can expect your smile to feel as natural as it looks!
All-On-4 vs. Traditional Implants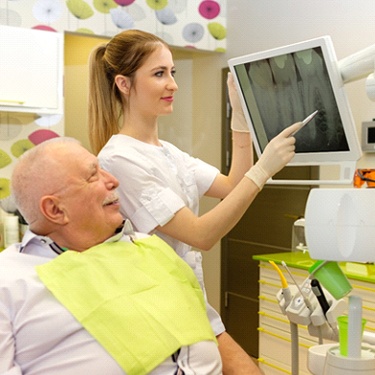 Many people conflate All-on-4 treatment with implant dentures, but they do hold a few distinct differences:
Implant dentures generally require more implants to place, making the treatment more costly overall compared to All-on-4.
All-on-4 exclusively makes use of a fixed option, while implant dentures can be fixed or removable.
After all planning stages are complete, you can receive your brand-new smile the same day you have your implants placed.