Dental Implants – Guilderland, NY
Put Your Tooth Loss Behind You
Tired of having to work around your missing teeth every day? Ready to toss your old, unreliable denture out the window the next time it slips? If so, dental implants offer the permanent, trusted solution to tooth loss that you have been waiting for. With them, Dr. Oshins has helped countless patients recover not only their oral health, but their confidence as well, using a treatment that's been shown to last 30 years on average. Are you ready to say "Goodbye!" to your incomplete smile? If so, contact us today to schedule a consultation to discuss dental implants in Guilderland, NY.
Why Choose Oshins of Smiles for Dental Implants?
Partnered with Local Specialists for Implant Placement
Able to Bring Back Any Number of Teeth for Life
Custom-Treatment Plans Using the Latest Technology
What is a Dental Implant?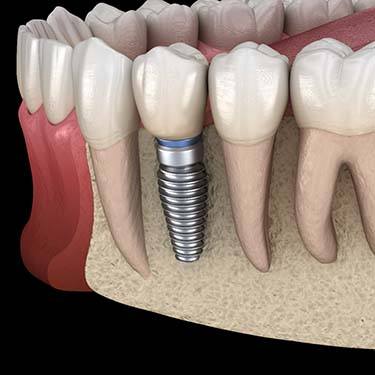 Each one of your teeth consists of two main parts: the crown, which you can see, and the root hidden below the gum line. What makes dental implants special is that they bring back this root structure. A small titanium post is placed into the jawbone where a tooth used to reside, and then it's topped with a crown, bridge, or denture. The implant itself bonds with the surrounding bone just like a real root to establish an extremely strong foundation.
Benefits of Dental Implants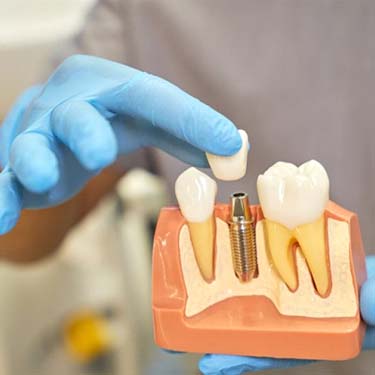 Dental implants offer several advantages compared to traditional bridges and dentures, with the most prominent ones being:
Unmatched Stability: You never have to worry about implanted teeth moving out of place because they are held within the jawbone just like natural ones.
Prevent Bone Loss: The jawbone tends to atrophy after tooth loss, but implant roots can stop and even reverse this process.
Premier Aesthetics: Implants look, function, and feel just like real teeth, allowing patients to eat with confidence and smile with complete ease.
Made to Last: The average lifespan of an implant is about 30 years, but many have been shown to last much longer.
Learn More About Benefits of Dental Implants
Are Dental Implants Right for You?
Dental implants can be used to help patients missing any number of teeth; they just need a relatively healthy mouth as well as enough strong jawbone to hold the new roots. Once these requirements have been met, a patient can choose from one of the following implant variations:
Missing Single Tooth
An implant root is positioned between two healthy teeth and topped with a custom-made crown. Unlike with a bridge, the nearby dental structure won't have to be altered or reshaped at all, making this a more conservative solution.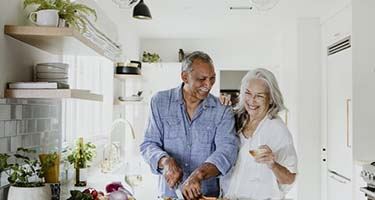 Missing Multiple Teeth
A bridge or partial denture can be secured within the mouth using just one or two implants, restoring several teeth at once. This is not only more cost-effective compared to using an implant per tooth, but it also makes these prosthetics much more stable and durable than removable ones.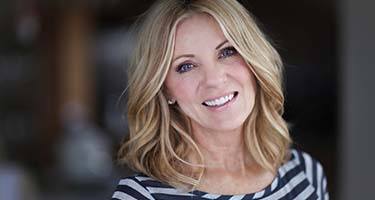 Missing All Teeth
With just four to six implants, a full denture can be anchored directly to the jawbone to give a patient an extremely secure row of teeth they can trust to always stay in place. In fact, with the All-on-4 procedure, a patient can receive a full implant denture in just one appointment.
How Dental Implants Work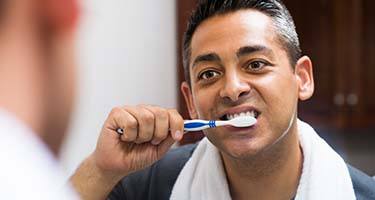 The entire implant procedure is usually completed over the course of two basic steps: placement and restoration. First, a patient will be recommended to a local specialist to have their implants surgically inserted into their jawbone. Then, after a healing period, the patient will return to Dr. Oshins so he can attach their new teeth to the roots. This collaborative approach ensures the highest quality care and longest-lasting results, and it's a big reason why implants have an impressive 95+% success rate.
Understanding the Cost of Dental Implants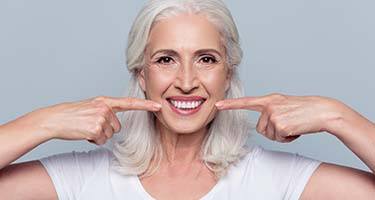 Because dental implants can be used in so many different ways to address varying degrees of tooth loss, the cost of the procedure can range widely from patient to patient. While they tend to be more expensive compared to other solutions like removable bridges and dentures, implants have been shown to last much (as in decades) longer, which usually helps a patient save tremendously over time because they don't have to replace their prosthetics nearly as often.