Dental Bridges – Schenectady, NY
Repair the Gaps in Your Smile
Even just missing one or two teeth can have serious impacts on how you look and feel about yourself, not to mention your ability to speak or chew up food properly. If you're in Schenectady and are looking to repair the gaps in your smile, Dr. Oshins and the rest of our team at Oshins of Smiles would be happy to outfit you with a dental bridge.
Our high-quality dental bridges can seamlessly replace teeth that you've lost with a strong, stable restoration. If that sounds intriguing, call us today for a consultation!
Why Choose Oshins of Smiles For Dental Bridges?
Capable Dentist With Advanced Education in Restorations
High-tech Dental Office Outfitted With Cutting-Edge Technology
Will Work With Insurance Companies To Ensure Best Possible Coverage
What is a Dental Bridge?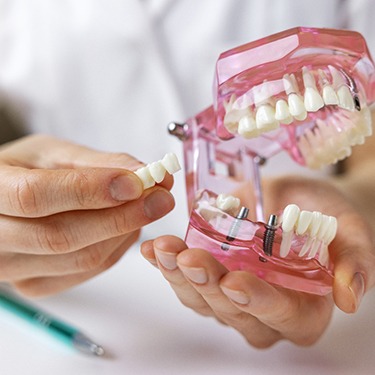 Generally speaking, dental bridges consist of two dental crowns with one or more false teeth sandwiched in between them. They're typically made of tooth-colored ceramic, like porcelain or zirconium, to afford them both strength and beauty.
Dental bridges are typically used to replace one or two teeth that were right next to each other, and that have a number of fairly healthy teeth surrounding them. This restoration is designed to look natural enough that when the crowns are placed on the surrounding teeth they blend in seamlessly with the rest of the mouth.
Types of Dental Bridges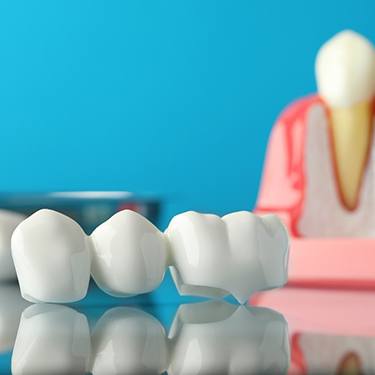 There are multiple kinds of dental bridges, each of which is best suited to different situations. We would need to meet with you personally to determine for sure which kind of dental bridge would be best for you, but if you're curious, here's what we have to offer.
Traditional Dental Bridges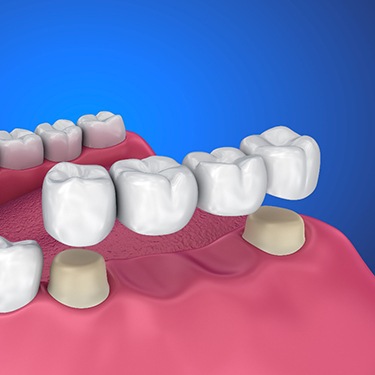 Traditional bridges work essentially as described above—the dental crowns are placed on the teeth surrounding the gap in your smile, filling a hole that's been bothering you.
This is a fairly quick and easy way to replace a few teeth, and the connection to natural teeth offers you greater bite strength than you'd get from, say, dentures. All told, you can use this method to get a beautiful restoration in as little as two appointments.
Implant Bridges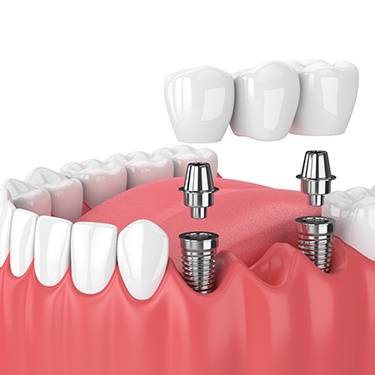 Implant bridges work a little bit differently. These also consist of several dental crowns connected to each other, but instead of being attached to the tooth, these bridges are affixed to dental implants.
These implants are small titanium posts that are surgically placed in the jawbone itself. This affords implant bridges a level of structural integrity that traditional bridges do not have. Dental implants also last for an incredibly long time, with some enduring as long as 30 years if maintained well.
The Benefits of Getting a Dental Bridge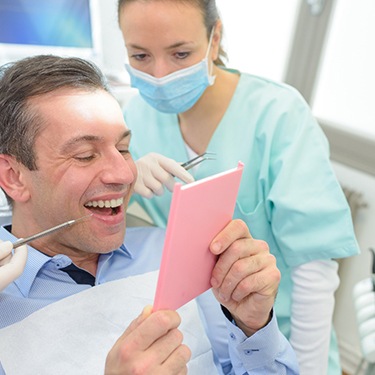 You might wonder whether it's worth going to the trouble of replacing a tooth that you've lost, but leaving a hole in your smile can have serious negative impacts on how you feel.
For one, it's common for the teeth that surround a gap to start to move to fill the void, which can cause your smile as a whole to fall into misalignment. This can make it difficult to bite, chew, and even clean your teeth properly.
And that's to say nothing of how missing a tooth makes you look. If the gap in your smile is obvious, it can put a serious damper on your ability to be sure of yourself. By getting a beautiful dental bridge, you can improve your confidence in your appearance.
So what are you waiting for? If you're missing teeth, give us a call today—we'll fill the hole in your smile in no time at all!