Dentures – Guilderland, NY
Lifelike Replacement Teeth for a Confident Smile
An estimated 40 million Americans are missing all of their teeth according to the American College of Prosthodontics. Tooth loss is an unfortunate reality for most people and can happen for a variety of reasons, including poor oral hygiene, genetics, and trauma. Fortunately, you don't have to just accept that you'll never have a complete and functional smile again, because Dr. Oshins offers lifelike, beautiful dentures in Guilderland to boost your confidence and improve your quality of life. Contact our office today to schedule a consultation and learn more.
Why Choose Oshins of Smiles for Dentures?
Dentist is a Kois Center Graduate
High-Quality Materials Used
Insurance-Friendly Dental Practice
Who is a Good Candidate for Dentures?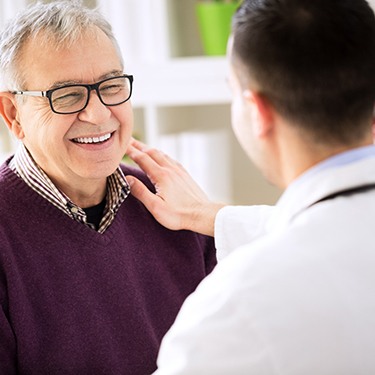 There are multiple styles of dentures that can help patients experiencing different types of tooth loss. Typically, we recommend this tried-and-true restorative treatment for patients who:
Are missing several or all teeth across an arch.
Have enough bone density to support the prosthetic.
Don't have a sensitive gag reflex.
Have a realistic expectation of the procedure and results.
Are dedicated to maintaining good oral health.
When you visit our office, Dr. Oshins can help you determine whether dentures are right for you by conducting a thorough evaluation of your smile and tooth loss case. He'll then discuss all of your reconstructive treatment options to allow you to make the best decision for your needs.
Types of Dentures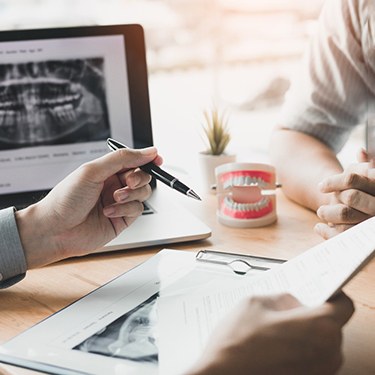 Based on your smile goals and unique situation, you'll be able to choose from any of the three types of dentures outlined below that we offer.
Partial Dentures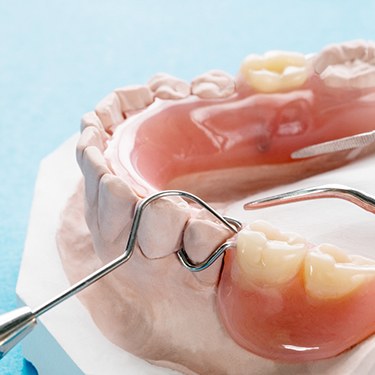 Partial dentures are designed to replace several missing teeth located across an arch. The metal and acrylic base is designed to fit like a puzzle piece in your mouth, being held in place by your existing teeth. Once secured, the attached replacement teeth will complete your arch, allowing you to eat and speak with ease.
Full Dentures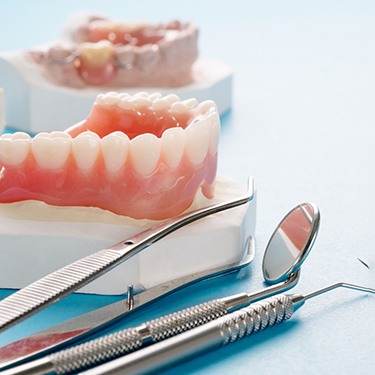 Full dentures can restore an entire row of missing teeth. The base is made from a gum-colored acrylic and designed to fit atop your jawbone ridge and utilize natural suction within the mouth to stay in place. The result is a complete and fully functional smile that can drastically improve your quality of life.
Implant Dentures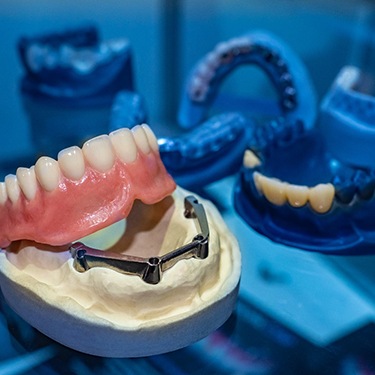 For patients who are interested in a more permanent and natural looking and feeling solution to replacing their missing teeth, Dr. Oshins can also secure a denture, bridge, or crown to dental implants. These are small titanium posts that are surgically placed below the gumline and into the jawbone to restore the entire structure of any number of missing teeth. The result is an unwavering, strong, and stable prosthetic.
The Benefits of Dentures
Dentures offer an array of benefits that prove to be life-changing for patients, including:
Boosted confidence
Variable diet due to improved chewing abilities
Ability to last 7+ years with proper maintenance
Preservation of facial shape
Restoration of bite power
Improved speaking abilities
Easy maintenance
Our team is happy to help you learn more about dentures—just give us a call!