Dentures – Guilderland, NY
Lifelike Replacement Teeth for a Confident Smile
An estimated 40 million Americans are missing all of their teeth according to the American College of Prosthodontics. Tooth loss is an unfortunate reality for most people and can happen for a variety of reasons, including poor oral hygiene, genetics, and trauma. Fortunately, you don't have to just accept that you'll never have a complete and functional smile again, because Dr. Oshins offers lifelike, beautiful dentures in Guilderland to boost your confidence and improve your quality of life. Contact our office today to schedule a consultation and learn more.
Why Choose Oshins of Smiles for Dentures?
Dentist is a Kois Center Graduate
High-Quality Materials Used
Insurance-Friendly Dental Practice
Who's a Good Candidate for Dentures?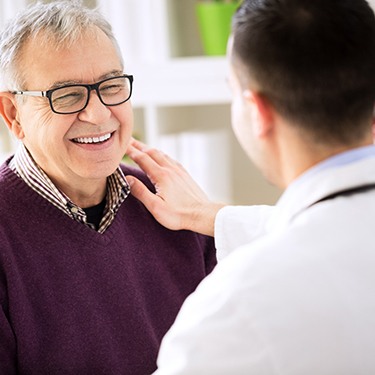 Ultimately, almost anyone with tooth loss can qualify for denture treatment. The exact number of teeth you're missing doesn't really matter. Still, booking a consultation with our office first is best. Dr. Oshins and his team will determine if you're eligible for treatment. Even if you're not, you could qualify later through various preliminary procedures. Should you want to learn more, just keep reading or call our office for the relevant details.
Effects of Missing Teeth
Before moving forward, it's helpful to review the causes and effects of missing teeth. This process will let you see how dentures can help.
In terms of causes, people can lose teeth for various reasons. A relatively common one is tooth decay, leading to a pearly white falling out or needing extraction. Another one is gum disease – a condition that wears down the tissues securing teeth. It's also possible for teeth to get knocked out from a sports injury or accident.
On the other hand, tooth loss effects are pretty consistent. Lacking teeth almost always makes eating, speaking, and smiling difficult. The situation also leads to smile gaps that gradually erode your jaw. (This erosion, in turn, can trigger facial collapse if left alone.) Spaces between teeth may even cause further tooth loss.
What Qualifies You for Dentures?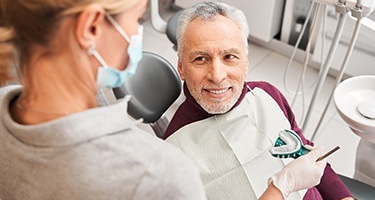 If you're missing teeth, odds are you'll qualify for dentures. That said, there are other qualifying factors to consider.
Your oral health is one such factor. For instance, a patient needs healthy gum and jaw tissues for dentures to work. A treatment candidate thus needs to practice good oral care. Similarly, you could get dentures for issues besides tooth loss. The prosthetics could replace your sensitive or decaying teeth.
The number of lost teeth is also worth noting. Based on how many are missing, you'll need one of two possible dentures. The first is the partial denture, which only replaces a few teeth. Meanwhile, the second is the full denture. This latter kind replaces all the pearly whites along an arch.
It'd also be wise to account for your budget. After all, restorative dentistry isn't free; it costs money as everything else does. On the bright side, dentures are more affordable than other restorations. They're a great option for patients with limited funds.
Alternative Tooth-Replacement Options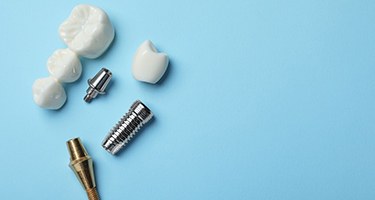 It's okay if you're not a good candidate for dentures. As it happens, our team at Oshins of Smiles offers several other tooth replacement options. The most typical of these include the following:
Dental Bridges – A dental bridge is a fixed restoration made of crowns fused to a pontic (i.e., false tooth). Due to relying on surrounding teeth for support, it can only replace a few pearly whites at most.
Dental Implants – Dental implants are small titanium posts. Unlike other restorations, they're placed in your jawbone and fuse with surrounding bone tissue. Given these qualities, a patient must have sufficient jawbone density. While more costly than dentures, implants are a more permanent and secure option.
Learn More About Dental Bridges
Types of Dentures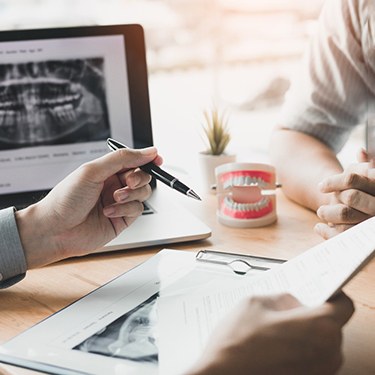 Based on your smile goals and unique situation, you'll be able to choose from any of the three types of dentures outlined below that we offer.
Partial Dentures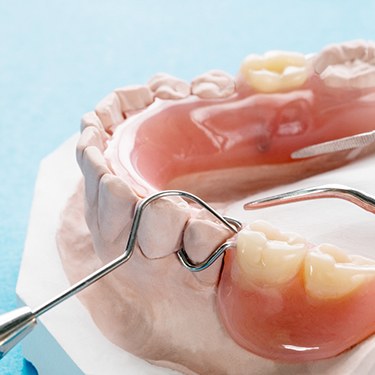 Partial dentures are designed to replace several missing teeth located across an arch. The metal and acrylic base is designed to fit like a puzzle piece in your mouth, being held in place by your existing teeth. Once secured, the attached replacement teeth will complete your arch, allowing you to eat and speak with ease.
Full Dentures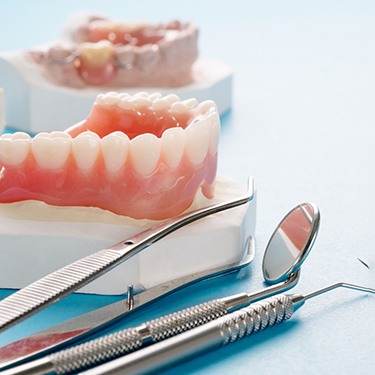 Full dentures can restore an entire row of missing teeth. The base is made from a gum-colored acrylic and designed to fit atop your jawbone ridge and utilize natural suction within the mouth to stay in place. The result is a complete and fully functional smile that can drastically improve your quality of life.
Implant Dentures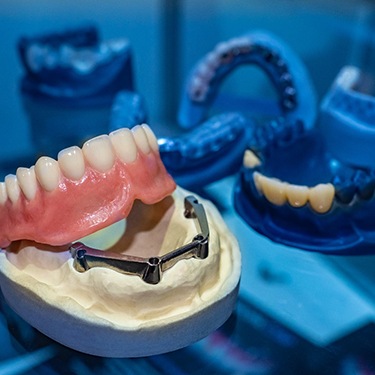 For patients who are interested in a more permanent and natural looking and feeling solution to replacing their missing teeth, Dr. Oshins can also secure a denture, bridge, or crown to dental implants. These are small titanium posts that are surgically placed below the gumline and into the jawbone to restore the entire structure of any number of missing teeth. The result is an unwavering, strong, and stable prosthetic.
The Benefits of Dentures
Dentures offer an array of benefits that prove to be life-changing for patients, including:
Boosted confidence
Variable diet due to improved chewing abilities
Ability to last 7+ years with proper maintenance
Preservation of facial shape
Restoration of bite power
Improved speaking abilities
Easy maintenance
Our team is happy to help you learn more about dentures—just give us a call!
Dentures Aftercare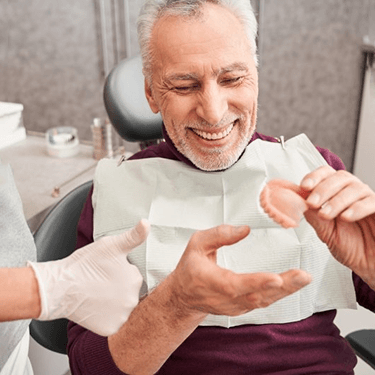 Not only will dentures replace missing teeth, but they'll also improve both the function of your smile and your overall appearance. Once you've received your new pearly whites, you're still going to need to practice proper care to make the most of them. With at-home care and regular visits to your dentist, you should be able to enjoy your new smile for many years to come. Here are several tips for caring for your dentures.
Removable Dentures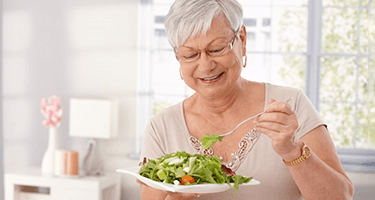 Remove After Eating
Whenever you're done enjoying a meal, make sure to remove and rinse off your prosthetics. This will help keep them clean and free of food particles, bacteria, and plaque that can accumulate. Avoid using hot water as this can warp your dentures and make them ill-fitting.
Clean Your Prosthetics
Always remove your prosthetics before cleaning them. You'll want to brush the underside of your dentures where they meet your gums, as this is the easiest place for bacteria to collect. Be sure to use a soft-bristled toothbrush to avoid wearing down your prosthetics and only use mild dish soap or denture cleanser to clean them with. Regular toothpaste can often be too abrasive for the material. If you aren't going to wear them right after, store your dentures in a cup of water or denture solution to keep them fresh and moist so they won't lose their shape. Also, rinse them again before wearing them, as you shouldn't ingest cleaning products.
Keep Your Dentures Safe
When cleaning your dentures, you'll want to avoid any possibility of accidentally damaging them. That's why you should place a soft towel underneath them while you're brushing them. This can help prevent them from breaking in case they slip out of your hand. Keep them out of reach from small children and pets.
Remove Dentures When You Sleep
Remember to take your dentures out before going to bed. Wearing them for too long can cause circulation in the gums to be restricted, leading to irritation and not allowing your tissues to receive essential minerals. Furthermore, those who sleep with their dentures have been associated with a heightened risk of gum/tongue plaque and pneumonia. To avoid these complications, take your prosthetics out and keep them in a cup of water or denture cleanser.
Notice Changes
Be sure to watch out for any changes in either your prosthetics or your mouth. Symptoms like mouth sores, gum irritation, or signs of infection will need to be addressed sooner rather than later. If you see any damage or notice something is off with your dentures, schedule a visit with your dentist for help. They'll be able to either repair, realign, or even replace your prosthetics so you can return to a complete and healthy smile.
All-on-4 Dentures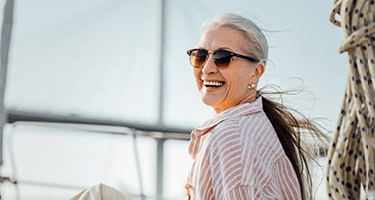 Although All-on-4 dentures are similar to traditional ones, you won't need to practice any special techniques. Simply use a soft-bristled toothbrush and clean them regularly with non-abrasive toothpaste (especially those that don't contain baking soda or stain-removing substances). Use a floss threader to help clean between your dentures and your gums. Rinse with antibacterial mouthwash frequently to avoid plaque and tartar buildup.