KOIS Dental Graduate - Guilderland, NY
Why You Want to Visit a KOIS Dentist
Dr. Steven Oshins is a proud graduate of the Kois Center, a clinical program in Seattle, WA that features the latest advancements in implant, restorative, and esthetic dentistry. You can learn how this prestigious program benefits our dental care at Oshins of Smiles by reading below.
Are all dentists created equal?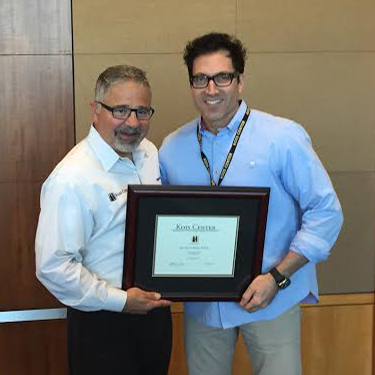 The short answer is "Yes." All dental professionals graduate from dental school with similar knowledge and skill levels and are ready to offer satisfactory care to the average patient.
The long answer is that dental school is merely one checkpoint in a long list of dentistry milestones that dentists must experience to exceed in their field of study. The initial equality of dental school comes to an end as individuals choose different educational paths to follow. Many prefer to remain in general dentistry, attending continuing education courses to remain current in the latest techniques and technology. Others move into more specific fields of study, such as pediatrics, periodontics, or oral surgery. These fields require several more years of school.
Dentistry is a broad field in which individuals can decide how far to progress. Some may choose to provide care at the standard level, while others attend courses and build their skills to become better than average. The third, and smallest, group selects the more complex and difficult choice of becoming the best of the best and practicing dentistry at the highest possible level.
Dentists who wish to move beyond the basic levels of dentistry must continually refresh their skills and develop new ones by attending courses based on the latest published science. The Kois Center has provided Dr. Steven Oshins with quality training, wise mentorship, and hands-on skills.
What is the Kois Center?
The Kois Center is a clinical program for practicing dentists that features a nine-course curriculum in comprehensive dentistry, operating on the mission of "Enabling motivated dentists to achieve extraordinary levels, expanding knowledge and application skills in restorative dentistry." It offers the latest advancements in implant, restorative, and esthetic dentistry.
Though currently located in Seattle, WA, the Center was founded 15 years ago in a dental office in Fife. John Kois, the founder and director, began with 12 students in a small room, but as word of his incredible teaching spread, dentists came from around the world to join his classes, necessitating the need for the Kois Center in Seattle.
Since then, the Center has become a vast educational network built on the collaboration of dentists who wish to further their skills and knowledge through rigorous courses. Graduates have the opportunity to return annually and review the previous year's teachings. The continued support and enthusiastic participation of graduates have greatly added to the Center's curriculum and overall success.
Attending courses at the Kois Center has enabled Dr. Steven Oshins to develop the necessary skills to help you keep your teeth healthy and beautiful for a lifetime.
Who is John Kois?
John C. Kois, DMD, MSD, is the founder and director of the Kois Center. A lifelong student of dentistry, he is committed to learning as much as he can about oral health and finding solutions to the challenges of dentistry. By creating the Kois Center as an educational resource for other dentists, he is able to both share his knowledge and learn from the wisdom and experience of his students.
John received his DMD from the University of Pennsylvania School of Dental Medicine and an MSD from the University of Washington School of Dentistry. He currently maintains a private prosthodontics practice in Tacoma and Seattle and teaches at the University of Washington in the Graduate Restorative Program. He lectures nationally and internationally, embracing opportunities to learn from his students and the audience.
A master in the art and science of dentistry, John has pioneered many paths by questioning each aspect of dentistry, adapting his beliefs as needed, and refusing to accept popular theories without performing his own personal research. He founded the Kois Center so that other dentists can examine their own work and make better decisions on behalf of their patients. John is linked to many prestigious organizations, including the World Congress of Minimally Invasive Dentistry, the American Academy of Cosmetic Dentistry, the American Academy of Restorative Dentistry, and the American Academy of Esthetic Dentistry.
Dr. Oshins was privileged to study at the Kois Center, and from this experience, he gained many skills and a profound understanding of oral health that has allowed him to better provide comprehensive dentistry.
What is a Kois Center Graduate?
The Kois Center was founded as an educational resource for dentists interested in pursuing further knowledge and skills in their field. Participating students demonstrate integrity and a commitment to their patients and education by seeking evidence-based knowledge and testing their current beliefs. Many dentists attend courses at the Kois Center in the hopes of finding the best, most efficient, and most cost-effective treatments for their patients.
Dentists who have experienced the atmosphere of learning and collective knowledge at the Kois Center come away with newfound abilities to care for your smile. If your dentist is a Kois Center graduate, they have completed all nine courses and demonstrated a genuine commitment to the field of dentistry. Graduates have the opportunity to attend the Annual Symposium to remain current with the latest studies and advancements as well as form connections that will help them refer their patients to other trusted dental offices.
Dr. Oshins is a proud graduate of the Kois Center, which means he has studied with the top dental professionals and made a serious commitment to improving his skills and abilities so that he can provide our patients with the best possible care.
Excellence in Dentistry
At the Kois Center, excellence is the standard, and participating dentists bring that commitment back to their own dental offices. By striving for excellence in dentistry, dentists and their team offer integrity, trust, and empathy with their dental care, which means you can place your trust and your smile in their capable hands. They commit to quality and the pursuit of perfection with every procedure, no matter how small. Dentists who passed through the Kois Center in their pursuit of knowledge also have the benefit of building off of each other's skills and experiences in a joint effort of professional growth.
Kois Center graduates utilize skill, attention to detail, and thorough diagnosis to provide patients with informative, personalized treatment in a timely and cost-effective manner. You may notice these qualities when you visit Oshins of Smiles.
Why do you need this training just to check my teeth?
How does your dentist determine the best treatment for your smile? He or she draws upon a variety of resources to gain a sound understanding of your oral health.
When you visit a dental office for the first time, you may be asked to fill out patient forms that require your health information. This information will notify your dentist of any existing health concerns or previous issues as well as any medications or systemic diseases that could affect your oral health.
Dental X-rays and 3D imaging show your smile and jaw structure from all angles to reveal any issues that cannot be seen on the surface of your mouth. Finally, the thorough oral exam performed by your dentist evaluates the health and status of your teeth, gums, previous dental work, and jaw function.
Your dentist considers all of the above when diagnosing your oral health and recommending treatment. At Oshins of Smiles, we have your best interest both now and in the future, and we design our treatments to benefit your smile for years to come. If you are in need of dental care, we encourage you to visit our dentist in Schenectady, New York.