October 22, 2020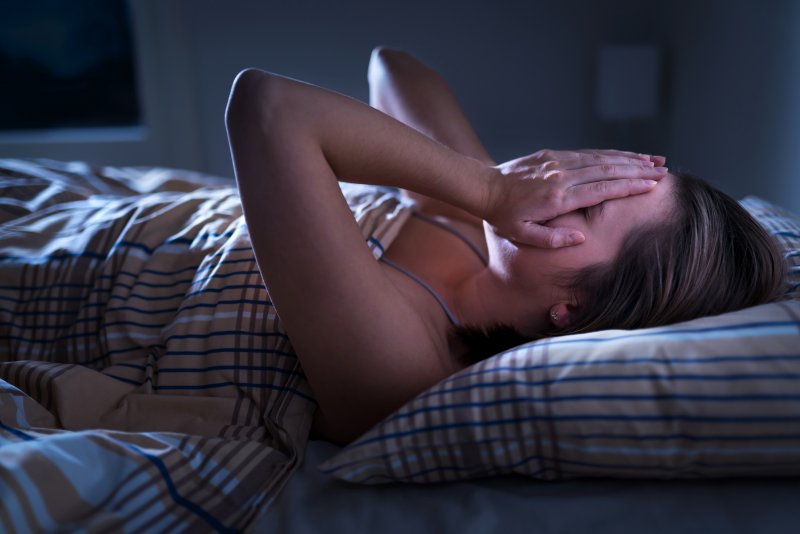 Did you know that over 18 million Americans struggle with sleep apnea? Perhaps even more shocking, it is believed that roughly 10 million people in the U.S. remain undiagnosed and untreated! Unfortunately, this prevalent sleeping disorder can lead to unpleasant consequences, like restless sleep, daytime drowsiness, and morning headaches. But can it also make you age more rapidly? Read on for the answer!
So, Can Sleep Apnea Make You Age More Rapidly?
According to the American Academy of Sleep Medicine, the answer is a resounding yes! Preliminary findings of recent research found that the problematic breathing associated with sleep disruption is associated with age acceleration. Therefore, undiagnosed and untreated sleep apnea can affect your quality of sleep, overall health, and your appearance!
5 Symptoms of Sleep Apnea
Considering the large number of patients with sleep apnea that go untreated, it is crucial to be aware of the common symptoms so you can recognize them in yourself and your partner. So, if you notice any of the below, make sure to seek treatment immediately:
Loud snoring.
Restless sleep or insomnia.
Waking up with headaches or dry mouth.
Daytime drowsiness.
Irritability or mood changes.
Treating Sleep Apnea
If you or a loved one is struggling with one or more of the above symptoms, it is important to contact a professional right away. While your initial reaction may be to get in touch with your primary care physician, your first call should be to your dental team. After all, a sleep apnea dentist is highly trained in creating custom breathing appliances so you can enjoy a restful, uninterrupted night's sleep. Plus, they can provide you with a formal diagnosis and help you determine what lifestyle changes can "cure" this common sleeping disorder, like no longer using tobacco products.
Are you ready to eliminate snoring, daytime sleepiness, morning headaches, and other unpleasant consequences of sleep apnea? Then there is no time like the present to contact your dentist!
About the Author
Since graduating from the University at Buffalo School of Dental Medicine, Dr. Steven Oshins has continued to hone his craft by studying under the top dentists in the world! In addition to completing countless continuing education hours each year, he has finished a dental sleep medicine residency at the University of North Carolina. By combining his years of hands-on experience with the latest techniques, Dr. Oshins can use custom oral appliances to effectively treat sleep apnea. So, if you believe you or a loved one is struggling with this common sleeping disorder, visit his website or give him a call at 518-356-5635.
Comments Off

on Is Your Sleep Apnea Making You Age More Rapidly?
No Comments
No comments yet.
RSS feed for comments on this post.
Sorry, the comment form is closed at this time.