November 23, 2020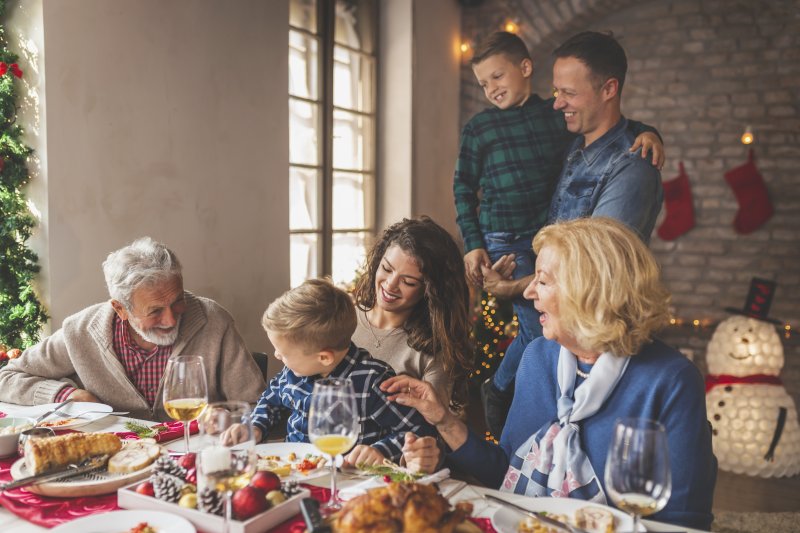 With the Thanksgiving holiday just around the corner, you're likely thinking about which meals you'll need to prepare, which family members will be visiting this year, and how you'll be decorating your home in preparation for their arrival. Of course, that doesn't mean your oral health shouldn't be a priority as well. If you want your smile to be healthy during future holiday occasions and the new year, consider these holiday oral health tips from a dentist!
Keep Floss Ready and Available
When you're eating your favorite foods, whether it's your turkey main course or appetizers beforehand, you'll want to keep floss ready in between these meals. Unfortunately, brushing alone is not enough to remove food particles from in between teeth. When left unremoved, oral bacteria will begin to consume them and produce plaque acid as a result. This acid directly harms your enamel and gum tissue. Always remember to floss in between meals if you want to effectively reduce your risk of cavities.
Use Caution Around Holiday Sweets
While many people enjoy sweet treats like pecan pie and cranberry sauce, both take a big toll on your dental health. The more sticky and sugary sweets you consume, the more exposed your smile becomes to plaque acids that cause tooth decay. If you must indulge in a sweet treat, it's very important to rinse your mouth immediately afterwards to remove sugar. Sticky foods like these can stick to teeth quite easily and remain there for hours at a time, so staying proactive makes all the difference.
Maximize the Protein on Your Plate
Much like sugar, starch can stick to your teeth and promote plaque development, which in turn leads to cavities. Which foods contain starch? Stuffing, dinner rolls, and mashed potatoes all give cavity-causing bacteria a reason to celebrate this holiday season. Instead, consider putting more turkey and vegetables on your plate this Thanksgiving (and make sure to skip the gravy if you want to avoid a cavity before the next holiday!)
Avoid Wine This Holiday Season
Whether it's red or white, the acidic nature of wine can stain and erode teeth. However, it can also weaken the outer layers of enamel, which are responsible for protecting your vulnerable soft tissue (or pulp) that sits in the center. To prevent permanent damage to your enamel, make sure to avoid these beverages and drink water instead.
While you can avoid dental issues by giving your diet a second look, it also helps to schedule an appointment with a dentist before the holidays come up. After all, routine exams and cleanings are the only way to know for sure if your oral health is in good shape!
About the Author
Dr. Steven Oshins takes great pride in going above and beyond when it comes to providing patients with comprehensive dental services designed to protect them from cavities and gum disease. With over 20 years of experience as a dentist and 100 hours of continuing education completed every year, you know you can trust him to both protect your smile and restore it to the fullest if needed. To schedule your next checkup at Oshins of Smiles, you can contact him through his website.
Comments Off

on 4 Holiday Oral Health Tips Every Family Member Should Know
No Comments
No comments yet.
RSS feed for comments on this post.
Sorry, the comment form is closed at this time.