April 2, 2021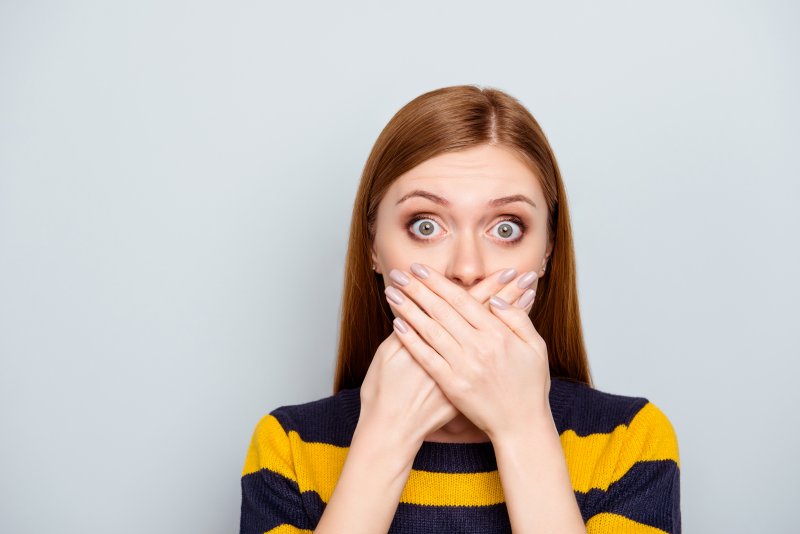 Have you ever had a relative, friend, or coworker inform you about your bad breath? It can be embarrassing for some people but, rest assured, you're not alone — anyone can suffer from bad breath. It is estimated to affect 1 in 4 people regularly.
According to Medical News Today, bad breath, also known as halitosis, is the third most common reason people seek dental care, after tooth decay and gum disease. While halitosis may be a major personal and social concern, it can be relatively easy to treat. In most cases, bad breath can be improved with proper dental hygiene or at-home remedies. For more severe cases, it is advised that you consult with a dentist to check for underlying causes.
Bad breath can be distressing and there are numerous potential causes, but there are various methods to alleviate it.
What Causes Bad Breath?
There can be several reasons why you're experiencing bad breath ranging from foods to health conditions to oral hygiene habits. Some common causes are:
Bacteria
This is the most common cause of halitosis and can be found on both the teeth and tongue. After you eat, bacteria like to feed on any debris left behind and in turn will leave a foul smell in your mouth.
Food
What you consume in your regular diet can cause a foul-smelling odor. Some regularly consumed food culprits are garlic, onions, coffee, alcohol, and orange juice. Food particles left behind in your teeth can contribute to halitosis as well.
Tobacco
On top of staining your teeth, smoking also causes bad breath and puts you at an increased risk of gum disease. Most of the time, smokers may not even be aware of their odor because of the effect smoking has on their sense of smell.  
Medical Conditions
Some causes of halitosis are often harmless and easily treatable. Others could be signs of something serious and be secondary symptoms of systemic diseases, like liver or kidney disease, diabetes, gastric reflux, or cancer. The latter is often the case if your dentist has ruled out all other causes and you're already brushing and flossing daily. In this case, you would need to see your healthcare provider immediately.
Tips to Prevent Bad Breath
Need some ideas on how to combat bad breath? The following tips can help alleviate your problem and improve your oral health.
Brush your teeth twice a day
Floss at least once a day
Brush or scrape your tongue
Avoid chewing and smoking tobacco
Visit your dentist regularly
Eat healthy foods that require lots of chewing
Pinpointing the cause of bad breath can take some time and work — but having fresh breath and strong oral health is always worth the extra effort.
About the Author
Dr. Steven Oshins prides himself in going above and beyond for his patients, whether it's routine checkups, dental implants, treatments, or more. Before recommending any care, the team at Oshins of Smiles always takes into consideration your dental and medical history to get a complete picture of your needs. If inquiring about bad breath, you can rest easy knowing Oshins of Smiles will check for and treat any potential issue to ensure your oral health is in the best shape possible. You can reach Dr. Oshins via his website or by phone at (518) 356-5635.
Comments Off

on Bad Breath — Common Causes and How to Prevent It
No Comments
No comments yet.
RSS feed for comments on this post.
Sorry, the comment form is closed at this time.